We're pleased to share that NMBL Technologies LLC (pronounced "nimble") today announced it will offer its legal workflow management solution, Proxy, in a secure private cloud environment managed by INAP.
The partnership strengthens INAP's foothold in the legal services industry, and bolsters Proxy's position as a secure legal technology solution that businesses can trust with their most sensitive data. Industry-watchers, like the LegalITProfessionals site, are sharing the news of this exciting development.
"While cloud adoption in the legal services industry has improved recently, many corporate legal departments remain wary of moving to a public cloud provider," said Daniel Farris, a NMBL founder and the company's so-called Chief Man in Suit. "Leveraging INAP's secure private cloud environment further bolsters Proxy's position as a leader in secure legal technology."
INAP's hosted private cloud solution is offered as a logically isolated or fully dedicated private environment ideal for mission-critical applications with strict compliance standards and performance requirements.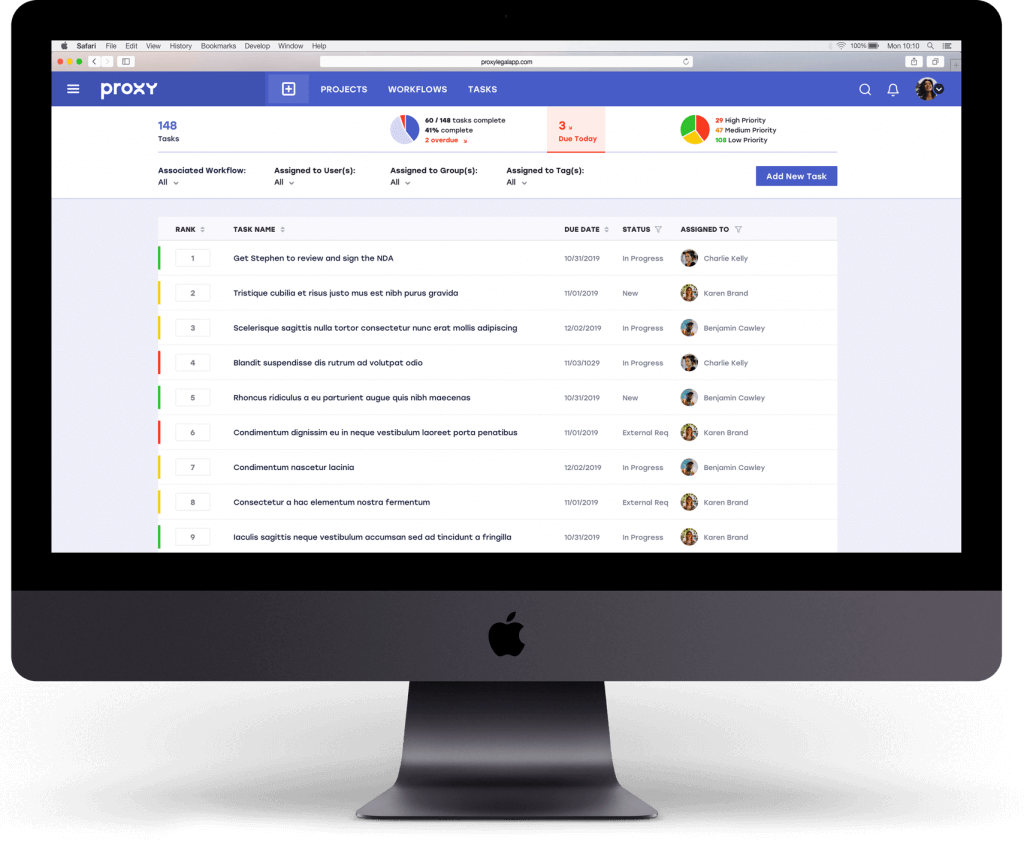 "INAP is already a trusted provider of cloud services in highly regulated industries, including healthcare, financial services and ecommerce, where stringent standards like HIPAA and PCI dictate how infrastructure and applications are secured and managed," said T.J. Waldorf, INAP's Chief Marketing Officer. "When we looked at the legal services market, we could see that it was underserved, and very much in need of providers who understand the unique issues lawyers face when adopting and implementing new technology. This alliance is a natural fit for us, bringing together our platform with a workflow solution tailor-made for corporate legal departments."
"Inefficiencies brought about by antiquated processes, lack of adequate controls, poor workflow management and collaboration tools, and the generally ineffective use of technology plague the legal market," said Farris. "Corporate legal departments feel the effects more acutely than most; they're often trying to manage their work with solutions that weren't built for their needs."
"In-house lawyers are under greater pressure than most other business managers to protect data and documents," agreed Rich Diegnan, INAP's Executive Vice President and General Counsel. "In fact, lawyers in many states have an ethical obligation to understand and ensure the security of the legal technology they use. Implementing already-secure platforms like Proxy in INAP's secure private cloud environment allows in-house lawyers like me to migrate to the cloud with confidence."
NMBL and INAP have a common perspective on their work, viewing the management of legal work performed within companies by in-house counsel as the most significant opportunity in legal tech.
"NMBL is embracing the legal ops movement, viewing in-house legal departments as business units, and developing enterprise solutions like Proxy for the corporate legal ecosystem," said Christopher Hines, NMBL's so-called Uber Geek. "Partnering with INAP is a no-brainer for us—their secure IaaS solution is yet another differentiator that creates competitive advantage for Proxy."
"Seventy-five percent of all U.S. legal work is now performed by in-house counsel, but the majority of legal technology products and solutions are still targeted at firm lawyers," said Nicole Poulos, NMBL's Marketing Maven. "Combining legal ops, workflow management, and a secure cloud platform powered by INAP, will provide corporate legal departments with greater control of their legal function, improve efficiency, and provide actionable data and intelligence."
The two companies also share a geographic connection. INAP's cloud services expansion has been heavily influenced by the Chicago-based personnel brought on with the company's acquisition of managed hosting provider SingleHop in 2018. Also based in Chicago, NMBL was recently named a Finalist in the American Bar Association's Startup Pitch Competition at TECHSHOW 2020, taking place in Chicago in February.
"The Chicago tech scene has generally been more focused on enterprise and B2B solutions," said Farris. "INAP and NMBL are both dedicated to helping companies be more productive and efficient by enabling the adoption of strong technology suites."
"Cloud adoption in the legal market still trails other sectors significantly," said Jennifer Curry, INAP's SVP of Global Cloud Services. "The most-cited reason is concern about privacy and data security. INAP's secure private cloud solutions make a lot of sense for an industry focused on not only ensuring the privacy and security of information, but also on faster, better, more effective ways to manage legal tasks and documents."
Both companies focus on providing flexible, lightweight solutions to customers in regulated industries.
"INAP is always looking to establish alliances with disruptive tech companies," said Waldorf. "Our scalable, reliable and secure platform offers best-in-class architecture with all the convenience and power of any well-established cloud provider. NMBL wants to leverage INAP's platform to continue to disrupt an industry ripe for technology-driven change."